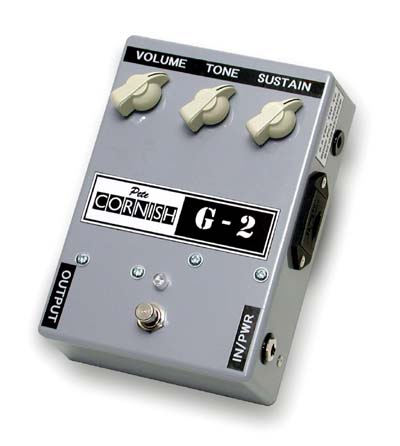 Well, I think we all knew it but there is confirmation - Pete Cornish likes Big Muffs and his G2 unit (Which he charges £444 for!) is a nice take on the classic circuit... But £444? Hmmmm. You decide:
Anyway, the tinkers over at freestompboxes.org in the Tracers Fund gutted this one and put together a great project, so you can make your own G2 for £44 (less if you're careful!), 10% of the cost of the original ;-) And, you won't have to wait 3 years to get it... Bonus!
The most interesting feature of this pedal is the input/bypass routing. Taken from the
Cornish
website:
"
The input to this unique device is our universally acclaimed High Impedance, Unity Gain, Class A, Buffer Preamp with it's superior RFI rejecting capability (to eliminate Radio Station interference) and Low Impedance output, allowing the use of extended cable runs from the
G-2™
in bypass mode. The fixed High Impedance load presented to the Guitar allows the pickups to operate at their optimum, even when several effects units are connected after the
G-2™
. The Unity Gain Buffer also prevents "Ghost Distortion" being audible in Bypass Mode. This effect unit gets the most benefit from being fed into a clean, full frequency response amplifier and I recommend that when you receive your pedal you connect it up without anything else in line, just Guitar/Pedal/Amp, and discover the way the controls interact, both with themselves and the guitar/amp controls. Then adding the rest of your effects, you may find that you need to make slight adjustments to these as they are now being fed with a constant signal when the
G-2™
is in Bypass Mode."
Here's the "Darkside" project:
http://www.mediafire.com/?a8ii16j0i2wsdrs
A special thanks goes to Dirk Hendrik and MadBean!