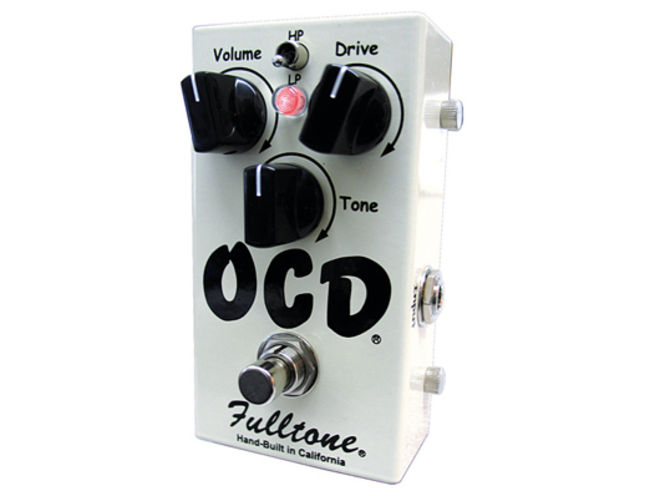 Had a few requests for this, everyone knows what it does and everyone seems to like it. Anyway, here's the description from the
Fulltone website
:
"AMPS... if you've ever owned a GREAT amp, like a Marshall 18 watt, a VOX AC15 or a Marshall JTM45, and if you have a place where you can crank them up loud, then you know what I'm talking about. Smack a power chord and you (not only) hear the fundamental notes, but you get (count 'em) 4, 5, even 6 additional overtones ringing into a feedback... notes that you can whistle if your ear is good enough! Think Zep'sOcean or Custard Pie or classic tones, including James Gang, the Beatles, AC/DC, Free., and so on.
Back off the guitar's volume and there are a dozen great other sounds at your fingertips... Clean, spanky sounds, with all the highs and lows still intact. And a Tele still sounds like a Tele, a Les Paul like a Les Paul.
PEDALS... (until now) just can't hold a candle to what a good amp can do if you are really picky. You not only lose all the touch sensitivity, but forget about those complex Harmonics. (For me) It's always been somewhat of a compromise using Overdrive pedals... until now. Ladies and Gentleman, I am proud to introduce the Fulltone OCD. I made this pedal for me, but I think you might like it too."
Here's a demo video of the OCD in action;
And here's a schematic for the OCD (V4):
Fulltone OCD V4
As many will recognise this is nothing but a modified version of the Voodoo Labs Overdrive from many moons ago - allbeit a nice sounding one. Check out the Voodoo Labs Overdrive schematic below and compare it to the Fulltone OCD scheme:
The layout and scheme are provided and work of Stratotrasto of the
freestompboxes
forum! Many many thanks :-) (Notice he also provided the Zendrive project)
For those of you who prefer vero:
Now I get a lot of emails asking me about the differences between the V1, V2, V3 and V4 versions of the Fulltone OCD. Well here is a PDF file that details the differences between OCD V1, V2 and V3 - compare to the above schematic for the V4 differences and you've got all the info you need on the OCD, here it is:
http://www.box.com/s/5ef844ca1fbe0571d91d
*NOTE* When building the OCD be careful to check the pinout of your clipping mosfets match up to the layout, also, you can leave out the germanium diode - this was included in V4 prototype but discontinued in the newest models..
**NOTE 2** If you like the OCD, why not try my redesigned "Super OCD", you can find the project file here:
http://revolutiondeux.blogspot.co.uk/2012/02/fred-briggs-super-ocd.html